The workshop gives an introduction to robotics, directional sound and visual control ranging from working with mechatronic systems to programming in processing and VVVV to cross-communication using open sound control.
We give an insight into our artistic practice and participants have the possibility to engage with 5 robots and use the tools we normally use to have a jam session together. This includes controlling the movements of the robots, the sound that is played and a custom made visual mixer.
~ 4 hours, start 2pm – open end evening
informal meet-up at the gallery space,
hands-on jam session: control robots + sound + visuals
---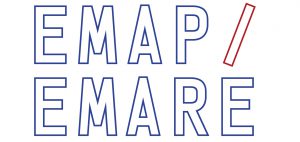 The work is coproduced at Kontejner within the framework of EMAP / EMARE and co-funded by Creative Europe.